What is so fascinating about this book?
Syracuse was the place where Plato tried to approach his ideal state in reality – and failed because of the decadence and unjustness of the city and its ruler. Indeed, Syracuse shares many similarities with Plato's Atlantis: Like Atlantis, it was situated on a large and fertile island in the west, a city of abundant wealth and power. As in Atlantis, the ruler's castle and magnificent temples were gathered on a small island. As in Atlantis, there were several harbors, quarries and walls encircling the city. And like Atlantis, Syracuse waged war with Athens.

But what sounds like a hot trail to decipher the enigma of Plato's Atlantis lay forgotten for a long time: As early as 1917, far ahead of his time, Gunnar Rudberg wrote this most coherent scientific analysis. The world did not, however, take notice of a Swedish text. Translated now for the first time, Rudberg's thesis is still a very good read on Plato's Atlantis, presenting not only one of the most credible solutions for Plato's Atlantis, but also offering an introduction to Atlantis research in general; the work confronts today's prevailing hypotheses with valuable criticism. Also included is a remarkable classification scheme of ancient and modern Atlantis hypotheses.

Gunnar Rudberg (1880-1954) was an internationally renowned Swedish classicist, Professor of Classical Philology and Greek Language and Literature at the universities of Oslo and Uppsala. Rudberg's scientific works had Plato as their focus.

"After this examination, it seems to me all but inevitable that Plato, when developing this portrayal of Atlantis, had the Dionysians' Syracuse in mind." (Gunnar Rudberg)
News magazine FOCUS Online, October 2013:
"... but it is more than fiction. 1917 the Swedish classicist Gunnar Rudberg published a lenghty article 'Atlantis och Syrakusai' ... According to the scholar Plato's account mirrors the geographical, social and political situation on Sicily and its metropolis Syracuse, the biggest bulwark in antiquity. ... The parallels in landscape and agriculture are indeed impressive. ... Syracuse was a military super power: It decisively defeated Athens in 413 BC ... The strong man was the tyrant Dionysius I, whom Plato personally got to know during his first Sicilian journey around 388 BC. Gunnar Rudberg's thesis fits well to Plato's biography."
Review by Dr Anna S. Afonasina in ΣΧΟΛΗ journal, Vol. 8 Issue 2 (2014); pp. 249-256:
"In general, the book is quite interesting. A review of the literature ... makes it possible to quickly get acquainted with the entire literary tradition devoted to the theme of Atlantis. The very idea of comparing Atlantis and Syracuse is presented quite convincingly." (Original and Translation)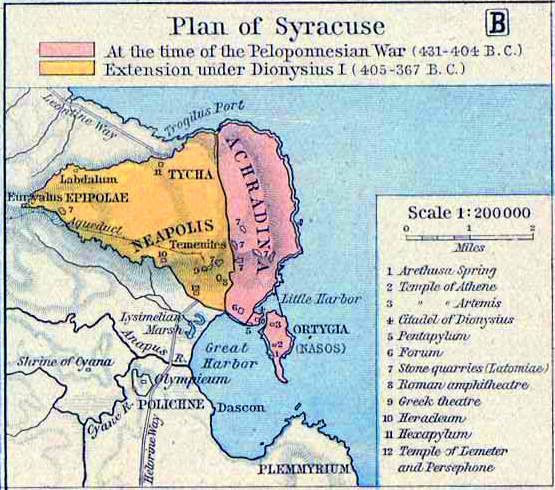 "Syracuse – that illustrious city which Timaeus calls the greatest of the Grecian towns. It was indeed a most beautiful city; and its admirable citadel, its canals distributed through all its districts, its broad streets, it porticoes, its temples, and its walls, gave Syracuse the appearance of a most flourishing state."
(M. Tullius Cicero)